Some handmade gift ideas to thank that special teacher in your life.
Shop Small….Shop Handmade.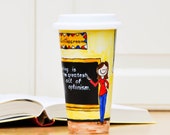 Teacher Gift Custom Travel Mug – Personalized Teacher Appreciation Tumbler – Ceramic To Go Mug with Lid – Back to School School Gift Eco Cup
A great teacher is a true gift. Show your appreciation to the teacher that really made a difference in your child's life with this uniquely personal mug. 
These thoughtful, 12oz. ceramic mugs are hand-painted and hand-designed making for a truly one of a kind gift! They can be personalized to your teacher's likeness, from the teacher's name, hair and outfit, a quote for the blackboard, the artist will even add a unique project the teacher did with the kids! Bonus points for eco-friendly reusable travel design.
$45.00  by PictureInADream
———————————————————————————————————————————–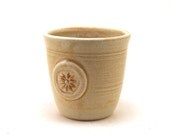 Ceramic Cup with a Flower: Cream Tumbler, Juice Cup, pencil holder, Unique Gift for Her 
With a flower that will never wilts, this cream ceramic cup can be used for drinking (perfect for juice or mixed drinks) or as a lovely container for make-up brushes. Or you could use it as a pencil holder. And if not for yourself, this cup would make a wonderful gift for that special woman in your life.
This gorgeous little 8oz ceramic mug would make a fantastic little pen & pencil holder for your favorite teacher's desk! Handmade, one of a kind and totally unique inexpensive gift.
$21.00  by MiriHardyPottery
———————————————————————————————————————————–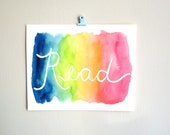 Read wall art – Watercolor painting – Colorful classroom print 

A fun and bright piece for anyone who loves to read, or some great decor next to a bookshelf or for a library, classroom, dorm room, or kids room. 
This piece was hand-painted on 140lb. acid-free watercolor paper.
Add a standard 8×10 frame for the perfect handmade art gift for the perfect teacher!
$28.00 by jenniferallevat
———————————————————————————————————————————–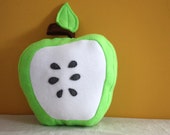 Cute Fruit, Green Apple Slice Plush
This listing is for one Green Apple Slice Mini Plush, made from super soft fleece, and is stuffed with super squishy poly fiberfill. 
Six hand stitched gray felt seeds highlight the white center, surrounded by bright green, with a jaunty little stem and one bright green leaf to complete the adorableness! 
A plush apple….what more needs to be said!? It's the epitome of the perfect teacher gift! Also available in Golden Delicious and Red Delicious.
$12.00 by WildRabbitsBurrow
———————————————————————————————————————————–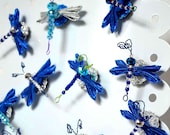 Blue Silver Kanzashi Dragonfly Magnets M201
With your order, you will receive four of the origami-like dragonfly magnets in a handmade kirigami box (inside a larger shipping box) so they are ready for giving as a gift, to yourself or someone else. 
4 adorable little handmade Dragonfly Magnets for flying up the teacher's blackboard frame! …and they even come in a handmade gift box!
$24.00 by fostersbeauties
———————————————————————————————————————————–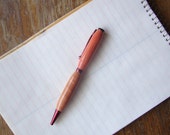 Pink Ivory twist pen, red colored finish
Pink Ivory is difficult to get a hold of. In fact, it's considered the second rarest wood in the world right now and therefor almost impossible to get in large amounts.
A classic, handcrafted pen of rare pink ivory wood…a simple, beautiful and functional gift.
$20.00 by SelectWoodcraft
———————————————————————————————————————————–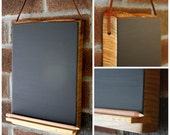 Hanging Chalkboard Tablet with Chalk Shelf Holder- Hardwood Chalkpaint with Leather strap
Comes with a White Chalk Pencil that sits on the bottom tray of the tablet. The chalk pencil is perfect for writing notes without getting chalk all over your fingers! Sharpens with a normal pencil sharpener.
A mini chalkboard for a portable classroom! Add a hand engraved sentiment on the back for $10 for a personal touch.
$38.00 by rusticcraftdesign
———————————————————————————————————————————–
 A Handmade in USA Cotton fabric tote with Rugged Waxed Canvas bottom makes for a fantastically stylish bookbag! This particular bag features Oranges, Peach, Blues and Beige with Paisley Motif.
$55.00 by hmmills
———————————————————————————————————————————–