For the 65%* of Americans that drink alcohol….these gifts are for you! Our curator has compiled a list of their favorite unique gifts for beer and wine aficionados
(including personalized wine racks, hand etched wine glasses to bicycle beer can holders) all small-business handcrafted by the artisan. You could always add a bottle (or six)  of their favorite beverage to compliment these selections as well.
–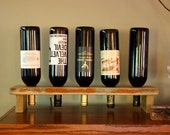 Personalized Wine Rack by rusticcraftdesign  $76.00 USD
Hand crafted from locally salvaged White Ash from Central Massachusetts; the board is beautifully figured, with a subtle arc to the shape of the board–giving unique character. A distinctive live edge runs the length of the board—with amazing colorations of a tawny orange! Gives a modern kitchen an essence of rustic charm.
"The simplicity of this piece is striking, and will compliment any kitchen or dining room from modern to classic." –Amy Spock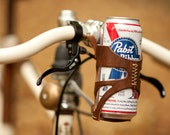 Bicycle Can Cage  by WalnutStudiolo   $72
Bring a can of soda (or beer, or juice) along for the ride. This design is a light yet rigid can cage for your bicycle, made out of leather, with a snug fit. A flat can of Coke has been called the racing cyclist's "secret weapon" – the quick jolt of sugar and caffeine is perfect to get you up the last few hills. 
"This gift is sure to bring a smile to the face of any bicyclist…BUT drinking and bicycling don't mix. Drink responsibly!" –Amy Spock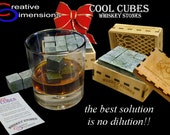 Whiskey Stones – Get a set for Dad by chuckstone $29.99 USD
Cool it down, don't water it down!
Soapstone cubes from Vermont are perfect for cooling
a good single malt, glass of wine or a few fingers of bourbon.
Since there is no melting ice, you can enjoy the full flavor
from the first sip to the last. Soapstone does not absorb any
flavors or odors, and does not add any to your drink. It has
been recognized as suitable for food contact by the FDA.
"Whiskey stones, great gift for dad, uncle, grandfather and also perfect as a Secret Santa, gift for your boss or use during your party too!"- Corky
Burlap Wine Bag Burlap 
 by 
LookingGlassDesigns1
$12.41 USD
This listing is for a Burlap Wine Bag in your choice of Red Snowmen or Green Christmas Trees. Both have Gold Glitter accents. Each Christmas Wine Sack is made from natural Hessian Burlap, has twine ties & measures approx 5.75″ wide and 11″ tall when flat. This will hold a standard 750ml bottle of wine. The snowmen, trees & accents have been stamped on by hand.
–
–
This lovely bag is tailored to fit not one, but two bags of wine. Perfect for large family gatherings or office party gifts, this heavy, durable canvas tote is made to order- it is hand cut, hand sewn, and machine embroidered. Personalization is available (name, different saying, etc.)
–
–
This hand-knit wine bottle cozy can be a wonderful accessory for your Christmas. It can make your bottle different but stylish and to be a great addition to your Christmas decoration.
–
–
Perfect for the home brewer or craft beer drinker, this sturdy, lifetime, reusable four-pack is perfect for those who want to transport their larger bottles in classic style.
–
–
Large handwoven, leather handled tote.Leather handles have slight variations in color and may vary in style. All are sturdy and look great on this basket. This is a set of 2 handmade bottle tags. They turn any bottle into a gift in the blink of an eye! Their backs have been left blank, so there is lots of space for you to write a message.
–
–
This is a set of 2 handmade bottle tags. They turn any bottle into a gift in the blink of an eye!
Their backs have been left blank, so there is lots of space for you to write a message.
"What better way to transport your party beverages or bring a lovely gift to a holiday gathering than with one of these lovely gifts!" –Amy Spock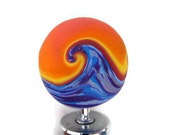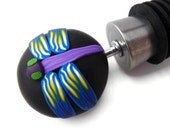 Polymer Clay Bottle Stopper Ocean Sunset by BeautifiedEssentials  $18.00 USD
Polymer Clay Bottle Stopper Dragonfly or Ladybug by  BeautifiedEssentials $18.00 USD
Jill Stone obtains beautiful mixes of color out of solid blocks of polymer clay. Each stopper is a unique piece of art; therefore the stopper you buy will differ slightly from the picture. Since they come in a black box with a white organza bow, they make great pre-wrapped house warming and any occasion gifts. Fits wine, olive oil, and vinegar bottles, please do not use in carbonated beverages. Keeps beverages, oil, and vinegar fresh and prevents spills.
"These are just a lovely addition to any wine bottle or wine gift." –Amy Spock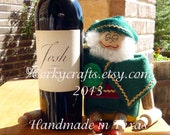 Christmas Elf shelf sitter by Corkycrafts $12.00 USD
Nothing says "holiday spirit" like a glass of eggnog!
Ask Corky the Elf he LOVES it! Corky is living life to the fullest at the Christmas party. This fellow has been enjoying his "wine sippins". Who would think elves can have so much fun?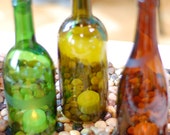 Wine Bottle Luminaries (Set of 3) by GreenIlluminations $24.98 USD
Set of three wine bottles, hand cut and hand sanded. Great for outdoor parties on the patio.
Our wine bottle luminaries come with 3 complimentary battery-operated tea lights. Because of air intake they will not sustain a lit candle unless they are placed on top of a porous surface such as a rock mat or place mat.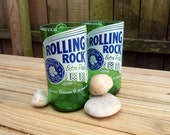 Rolling Rock Tumblers – Set of 2 by GreenIlluminations $15.98 USD
Our Rolling Rock bottle tumblers are created from recycled bottles and hold approximately 8 ounces of liquid. They are sure to be the talk of your next dinner party of family gathering!
The tops are completely smooth and safe. We use a hand sanding process of 5 different types of sandpaper to get them 100% safe and smooth to the touch!
"What thoughtful, environmentally responsible gifts for the wine connoisseur." –Amy Spock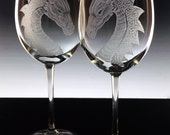 Dragon wine glasses, dragon glassware, dragon wedding theme  by GlassGoddessNgraving $53.75 USD
These goblets are tall , standing 9 inches (22.860cm) with a 2 3/4 inch (6.9850cm)diameter at opening. Available in clear glass, green with clear stem,blue with clear stem.
"Stunning etching has been done on these beautiful glasses. If dragons aren't your glass of wine, this shop offers custom orders."- Amy Spock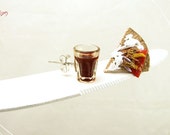 Gyros Pita & Wine Greek Traditional food Earrings – Mini Food Jewelry by HugsKissesMINI  $25.00 USD
Craving for some Greek food? In the mood for a little cozy tavern, with wooden tables all around and sweet wine being poured endlessly? Here are the earrings just for that mood! A portion of delicious Greek Gyros on a triangular cut Pitta, with some fries, onion, tomato and of course.. tzatziki sauce! To wash it down, a small traditional glass of red Wine. What could say more "Greece" than that?
"What an adorable, unique gift for that special someone who just happens to appreciate Greek food and wine. Amazing detail in such tiny jewelry." –Amy Spock

This Fantastic Gift Guide was Curated  by Amy Spock of Beads and Threads by Amy

and by CorkyCrafts