In our 2013 handmade gift guide series, we felt it necessary to include the small yet significant gifts for the holidays–the stocking stuffers! Our curators have compiled a wonderful list of 30+ of their favorite stocking stuffer gift ideas from TeamHandmade on Etsy perfect for stuffing into your favorite loved one's giant sock. Have a Happy Holiday Season!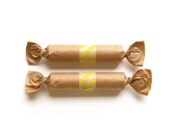 Moisturize, soften, and protect your fingers and cuticles with Lemongrass + Tangerine natural cuticle cream. It's great for cuticles, but in a pinch it doubles as a lip balm. And because it's in a tube, there's no tin to unscrew and dig into (and then you use too much and your hands are greasy forever).
Perfect size for a stocking, and cuticle cream would certainly be appreciated during the coming cold winter months.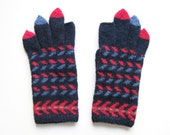 Natural wool gloves knit by my grandmother with a special design for smartphone users. Or in any other case where you'd need those two fingers.
Cold winter months and smartphones often bring disappointment and chapped fingers when you have to bare your whole hand to check Facebook, but these handmade gloves are the perfect (colorful!) solution.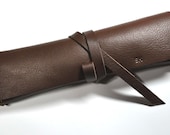 This leather pencil case is simple and chic. easy grip with one hand.
Made with walnut vegetable cow leather and black buffalo leather and hand-stitched with beeswaxed brown linen thread.
$39.00 USD by  MJKMADE
This case is just the right size for pencils for an artist, or makeup brushes for a fashionista. And it can be personalized with the initials of the recipient.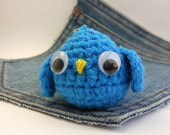 Adorable little crochet owl keychain. Perfect for a gift or just to have it with you on your desk, shelf,bag..anywhere!
A sweet little gift for those that like their keychains extra cute.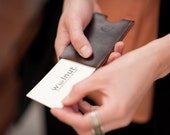 This beautiful leather business card case has an innovative original design that makes it easier to take your cards out by pushing them out rather than pinching-and-pulling. Minimalist modern design uses classic materials: leather and walnut wood. The leather can be elegantly plain or tooled with a floral and leaf pattern.
 This business card case makes an elegant, useful gift for business professionals and self employed entrepreneurs. It could also be used as a minimalist wallet for an ID and credit card.

This skein of sock yarn is approx 440 yards and weighs 100 grams. This yarn is both soft and durable. Enough for an adult pair of socks or a pretty lace scarf.
What knitter or crocheter wouldn't be overjoyed to see this pretty hand-dyed yarn peeking out of their Christmas stocking?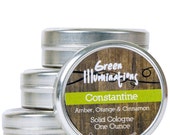 Spicy and sweet, this fall scent combines soothing amber with spicy cinnamon and just a hint of citrus to brighten it up.
Our solid colognes are 100% natural.
Made from beeswax, almond oil and essential oils.
$11.98 USD by  
GreenIlluminations
This natural alternative to colognes and perfumes is portable and makes a perfect little stocking stuffer for either men or women.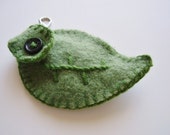 Keep your lip balm (or lipstick, or USB stick or other small object) always on hand with this cozy lip balm holder.
You can attach it to you keychain, your purse or bag with its large lobster clasp.
This would be a cute little gift for nature lovers.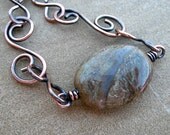 Handcrafted copper bracelet with wire wrapped green agate. Mossy green and brown agate is wire wrapped and connected to copper chain links. Copper is hammered, oxidized and hand polished.
A pretty, shiny little gift for someone who likes natural, rustic styled jewelry.

Awesome little cup cozy in your choice of colors: gray, light green, dark green, yellow, orange, light turquoise, dark turquoise. Please specify color. These are great for keeping your coffee warmer just a little bit longer.
$14.00 USD by Grubs
This is a nice little gift for coffee or tea lovers. Or pair it with a special handmade mug for a perfect little themed gift set.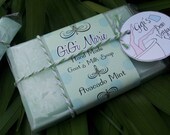 The clean, light, refreshing scent of this soap is amazing and will lift your spirits! Made with Goat's Milk, So it's good for your skin and will leave you feeling clean and refreshed.
$4.00 USD by GigiSoapShop
This size is perfect for a small gift, token of love, traveling in style or a great way to try a new scent before buying our deluxe full size bar. All with our exquisite handmade packaging.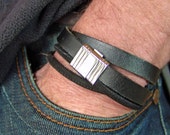 A bracelet for men – made of flat leather and nappa velvet in black. The bracelet can be turned around your wrist for two times. The strong clap ist made out of stainless steel. You won't loose it.
A great casual understated accessory for dads, brothers, husbands, boyfriends or any other special guy!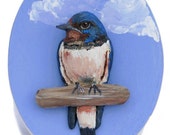 If you enjoy bird watching, you know that Barn Swallows can be very entertaining to watch.They're so fast and graceful! Every now and then, they perch, and you can admire their beautiful shiny blue feathers.
This beautifully sculpted and painted box would make a great gift for bird or nature lovers.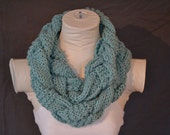 This infinity scarf is long enough to wrap around 3 times for a cozy fit or twice around to make a fashion statement and accessorize. The scarf has several knitted pieces woven tightly together so it's not too chunky but can also be stretched apart to create a different look and style. The color is turquoise and adds pop to any outfit.
A fashionable and warm gift. Just in time for cold January mornings!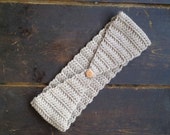 Stylish and warm. Wear to work or out walking the dog. Keep your ears warm without a beanie. Looks lovely with hair down, up or in pony. 100% wool. Lovely soft caramel color.
Pair this with a scarf and gloves for the perfect winter gift set.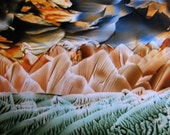 This is an ACEO ~ 2.5 inches X 3.5 inches ~ a miniature collectible painting painted with encaustic beeswax melted against a special iron used as a paint brush.
Who says you can't give original art as a stocking stuffer? This is a perfect little gift for for an art enthusiast. You can add a mat and a small frame for a "wall ready" gift.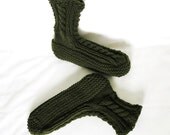 Rich dark green yarn, higher cuffs with stylish cables for warm ankles plus all the comfort of my "Grandma Slippers" …the bigger fellow in your life with cold feet will love them! What don't they have? Drawstrings are omitted, for those who prefer a more sock-like fit.
Every guy needs a nice cozy pair of slippers, even if they don't admit it 🙂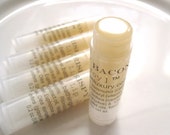 Crispy Bacon Lip goody in a tube (0.20 oz/5.6g net weight each), this listing is for TWO (2) tubes – slightly sweetened, goes on clear and unisex.
–
 NOTE this price applies to 2 tubes of any scent unisex non-tinted lip balms.
$8.50 USD by soap
If there is one thing I know, it's that guys love bacon. Bacon EVERYTHING, and bacon ON EVERYTHING!

Got wood?This is a soap for people who looove wood. It looks and certainly smells like freshly cut boards. Each bar also contains pure powdered caffeine. A soap for men! Or someone who just likes the smell of lumber.
Because what guy wants to smell like flowers when he can smell like something manly, like wood!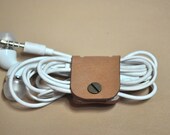 Keep your earbud or headphone or earphone under control. Made from high quality top grain vegetable cow leather and gold colored metal closure. Edge polished and coated with matt tan brown for duration.
An inexpensive and neat solution to knotted headphones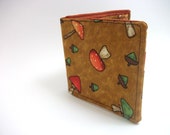 Slim yet sturdy, this wallet fits perfectly in a back pocket and has room for all your cards. Each of the four card slots can fit three or more cards, and the back pocket holds cash and receipts. I left a one inch space free in the center, which lets it fold naturally even when stuffed full!
I love the fun mushroom pattern on this wallet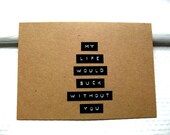 Funny greeting card for any occasion. Blank inside for your personal message. Comes with a white envelope and is protected by a cello bag.
MY LIFE WOULD SUCK WITHOUT YOU

A whole magazine of 50 pages -dense coiling-was upcycled into these eco friendly drink coasters. It is sealed with mod podge-left unwarnished by purpose but can be protected on demand,considering that the varnish is soaked by the paper and changes(darkens) its colors.
A nice way to say " Hey stop putting your beer directly on the table " 🙂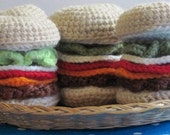 Handmade burger measures approx. 3″ high X 3″ wide. All pieces are separate, made of 100% Acrylic and are machine wash/dry. Buns are filled with Poly-fill and have no small parts or pieces.They look good enough to eat!
A silly stocking stuffer that is sure to make any guy laugh.. they all love burgers too, with bacon of course!

Our all natural soy candles are handmade from 100% essential oils and soy wax. 3oz. candles burn for approximately 20-24 hours. Hand poured into recycled beer bottles. Our candles come individually boxed and packed in shredded recycled paper. Cinnamon & Cedarwood. Great for fall and winter! Reminiscent of cold nights around the fire in a log cabin. Snuggle up with this sweet, cozy scent.
A nice manly scented candle in a beer bottle! Perfect!

Wine stoppers make great gifts for wine and/or woodworking lovers! Spalting happens usually after a tree dies and is just beginning to rot. The fungus in the wood cause the grain to change colors in beautiful random patterns as it decays – thus the result in the piece you see here.
For the wine drinking guy in your life!
A little red pocket notebook made with an upcycled paint chip sample.
Notebook is 4 inches X 2.5 inches (10cm X 6.3cm).
Paint chip notebooks have 20 pages (40 sheets) of paper (acid-free), and is bound like most magazines.
What a cute inexpensive upcycled addition to your loved one's stocking ♥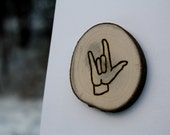 This listing is for a unique wood branch slice has been dried and sanded smooth and with a strong, rare earth magnet affixed to the rear featuring a custom engraving of the American Sign Language sign for "I Love You" or your choice of design on the front.
Very unique way to say I love you…or Rock On! 😉
Thank you to our Stocking Stuffer collection curators
Andrea Shibly from  MiscellaneaEtcetera

and Carly Mutti from MuttiArtography

 

Shop Small….Shop Handmade.